Rhodophyta
Red Algae
D. Wilson Freshwater
Cyanidium
Porphyridiales

*

Compsopogonales

*

Bangiales

*
Taxa indicated by '*' are members of the traditional Bangiophyceae/Bangiophycidae that is now considered to be paraphyletic.
Introduction
The Rhodophyta (red algae) are a distinct eukaryotic lineage characterized by the accessory photosynthetic pigments phycoerythrin, phycocyanin and allophycocyanins arranged in phycobilisomes, and the absence of flagella and centrioles (Woelkerling 1990). This is a large assemblage of between 2500 and 6000 species in about 670 largely marine genera (Woelkerling 1990) that predominate along the coastal and continental shelf areas of tropical, temperate and cold-water regions (Lüning 1990). Red algae are ecologically significant as primary producers, providers of structural habitat for other marine organisms, and their important role in the primary establishment and maintenance of coral reefs. Some red algae are economically important as providers of food and gels. For this reason, extensive farming and natural harvest of red algae occurs in numerous areas of the world.
Click on an image to view larger version & data in a new window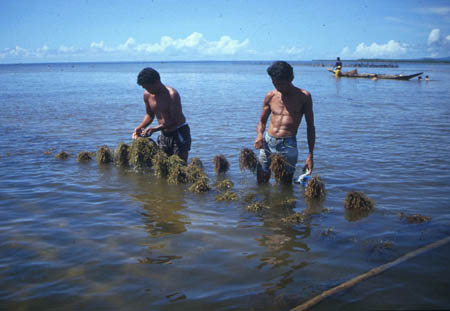 Characteristics
Red algae have a number of general characteristics that in combination distinguish them from other eukaryotic groups:
absence of flagella and centrioles
floridean starch as a storage product and the storage of starch in the cytoplasm (Figure 2)
phycoerythrin, phycocyanin, and allophycocyanin as accessory pigments
unstacked thylakoids in plastids (Figure 3)
no chloroplast endoplasmic reticulum
Click on an image to view larger version & data in a new window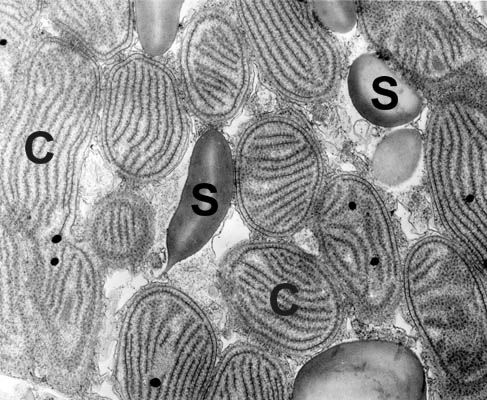 Click on an image to view larger version & data in a new window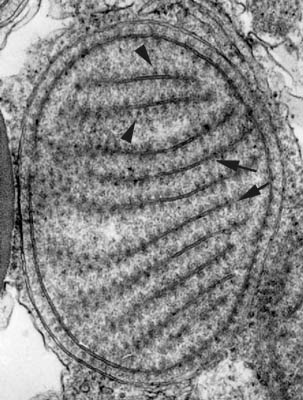 Discussion of Phylogenetic Relationships
Traditionally the red algae were divided into two Classes the Bangiophyceae and Florideophyceae. Alternatively a single Class, the Rhodophyceae and two Subclasses, Bangiophycidae and Florideophycidae are used. Based on ultrastructure and molecular evidence the Bangiophyceae is now accepted as a paraphyletic group, while the Florideophyceae is considered to be monophyletic based on two synapomorphic characters - presence of a filamentous gonimoblast and tetrasporangia (Garbary & Gabrielson 1990 [and references within], Ragan et al. 1994).
References
Garbary, D.J. & Gabrielson, P.W. 1990. Taxonomy and evolution. Pages 477-498 in Biology of the red algae (K.M. Cole and R.G. Sheath, eds.). Cambridge University Press, Cambridge.
Lüning, K. 1990. Seaweeds: Their environment, biogeography, and ecophysiology. Wiley, New York.
Ragan, M.A., C.J. Bird, E.L. Rice, R.R. Gutell, C.A. Murphy and R.K. Singh. 1994. A molecular phylogeny of the marine red algae (Rhodophyta) based on the nuclear small-subunit rRNA gene. Proc. Natl. Acad. Sci. USA 91:7276-7280.
Woelkerling, W.J. 1990. An introduction. Pages 1-6 in Biology of the red algae (K.M. Cole and R.G. Sheath, eds.). Cambridge University Press, Cambridge.
Information on the Internet
About This Page
The author wishes to thank G. W. Saunders for helpful comments, D. F. Kapraun and C. M. Pueschel for photos, and Katja-Sabine Schulz for invaluable help with the building of this page. Support for this page was provided in part by the National Science Foundation.

University of North Carolina, Wilmington, North Carolina, USA

Correspondence regarding this page should be directed to D. Wilson Freshwater at

Page copyright © 2009

Page: Tree of Life Rhodophyta. Red Algae. Authored by D. Wilson Freshwater. The TEXT of this page is licensed under the Creative Commons Attribution License - Version 3.0. Note that images and other media featured on this page are each governed by their own license, and they may or may not be available for reuse. Click on an image or a media link to access the media data window, which provides the relevant licensing information. For the general terms and conditions of ToL material reuse and redistribution, please see the Tree of Life Copyright Policies.
First online 24 March 2000
Citing this page:
Freshwater, D. Wilson. 2000. Rhodophyta. Red Algae. Version 24 March 2000 (under construction). http://tolweb.org/Rhodophyta/2381/2000.03.24 in The Tree of Life Web Project, http://tolweb.org/
edit this page